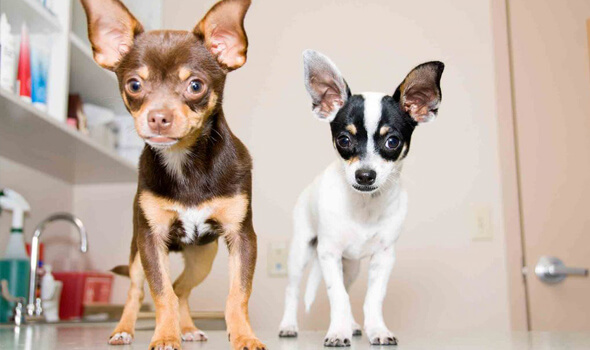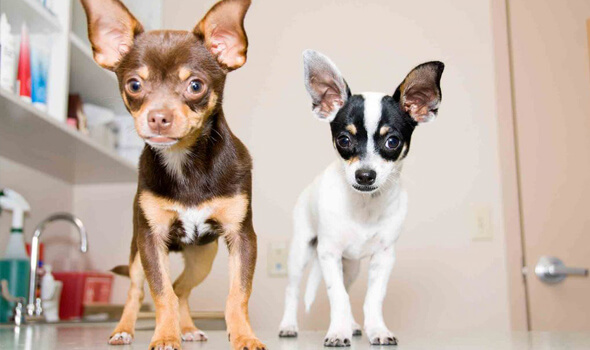 Emergency Pet Care
Unexpected pet emergencies are stressful for pets and pet owners. During our regular operating hours, Bear Valley Veterinary Care Center is available to help pets with any sudden medical issues. The following conditions and symptoms are just some cases in which you should seek veterinary care for your pet immediately. We recommend printing or bookmarking this page so you can always reference it easily.
Shock, which generally is associated with sudden pale gums and non-responsiveness
Hemorrhaging (bleeding)
Bloating (distention of belly)
Persistent vomiting and/or vomiting blood
Sudden increase in water consumption
Bloody diarrhea or diarrhea that worsens or persists over time
Lack of appetite for more than 48 hours
High fever
Choking and pawing at the face
Sudden lameness or deviation of bones
Unexplained seizures
Injuries from encounters with automobiles
If your common sense tells you to seek emergency care for your pet, listen! The faster we can help an injured or ill pet, the better. Treatment is always more successful when it starts early.
Denver Emergency Veterinary Hospitals
If your pet ever needs emergency care when Bear Valley Veterinary Care Center is closed, please contact one of these local 24-hour veterinary hospitals:
VRCC: Veterinary Specialty & Emergency Hospital
3550 S. Jason St.
303.874.7387
ACCESS: Animal Critical Care and Emergency Services
2201 Wadsworth Blvd.
303.239.1200
Wheat Ridge Animal Hospital
10140 W 44th Ave.
303.424.3325
Pet First Aid Kit
Bear Valley Veterinary Care Clinic highly recommends creating a first aid kit for your pet that you can access in the event of an emergency. Here's what you should include in your pet's first aid kit:
Bear Valley Veterinary Care Center's phone number: (303) 985-3316
A phone number for a local 24-hour veterinary hospital (see above)
One tube of antibiotic cream
A roll of 3-inch bandage gauze
One small package of cotton balls
Eyewash or a bottle of artificial tears (for flushing foreign material from the eyes)
Disinfectant like chlorhexidine or betadine (avoid hydrogen peroxide)
A muzzle and a 4-foot soft cotton rope
Paper and pencil
Blunt-tipped or bandage scissors
Soap, preferably liquid organic iodine (for cleaning wounds)
Syringe with 12-cc capacity (for flushing wounds and administering oral medications)
Styptic stick (for minor bleeding from a torn nail)
A roll of 2-inch adhesive tape
An electronic rectal thermometer
Tweezers or a pair of inexpensive hemostatic forceps
These items can help you provide first aid to your pet right away. Then, you should schedule an appointment with your Bear Valley veterinarian as soon as you can. While providing first aid to your pet, avoid getting bit by muzzling your pet or, if your pet is small enough and this won't cause them excess pain, by wrapping them in a towel to hold them in one place. This is important even if your pet is never aggressive. If your pet is experiencing pain, they may react in a way that is out of character for them.
In the event of a pet emergency, call Bear Valley Veterinary Care Center at (303) 985-3316 immediately.