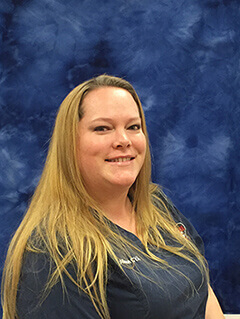 Alison – Practice Manager
My name is Alison and I am our Practice Manager. I started out as a Certified Veterinary Assistant Intern for Dr. Stevenson way back in 2007. I liked it so much I never left! Over the years I have continued to improve my skills and found that I have a passion for leadership. I find it very rewarding to hire and train our team to give our clients and patients the best veterinary experience possible. My family is from rural Kansas but I am a Colorado native and plan to stay here forever, I love it here. My animals are my babies. My chubby cat Spot and one-eyed dog Willy are both patients here and love our Vets and staff. My goal is to make the staff and our clients laugh every day. Matt – Pet Resort Manager
My name is Matt. I have officially been at Bear Valley since October of 2020, I say "officially" because I am Dr. Stevenson's husband, so I have been behind the scenes since day one. I joined Bear Valley Vet to help open the Pet Resort, which is something that fits me perfectly. My family always had a variety of pets, and I grew up wanting to be the most fun person in an animal's life—rather than the one who is going to poke them with a needle. I am a Colorado native that loves to spend time outside. Whether that be camping with our family of foster kids, dogs, and biological children, or riding my motorcycle all alone. I also like to build things. My collection of tools is continuously growing, but I don't think it will ever be complete. I hope that I get to meet you and your pet sometime soon, and if we can assist in taking care of your furry pal while you sneak in a vacation, it would be our pleasure.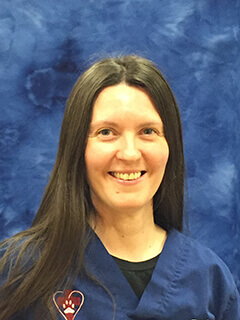 Becky – Certified Veterinary Technician
Hi, It's Becky. I've been with the Bear Valley team since Dr. Stevenson's first day in 2004. Every day is a new adventure. Since becoming a certified veterinary assistant in high school I have worked at small animal clinics, doggie daycares, shelters, emergency care, and even barns.
After high school, I graduated from Bel-Rea and became a certified veterinary technician. I honestly find joy in every aspect of our work at Bear Valley. From helping to educate new pet parents to scaling tartar off teeth. Every part of our work here is to help pets and there is nothing greater.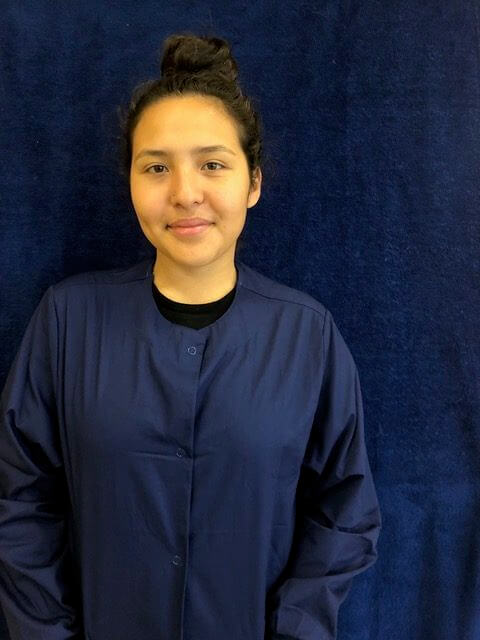 Yesenia – Veterinary Assistant
Hi, my name is Yesenia and I've worked for BVVCC since March of 2019. I started off doing my internship here in January of 2019 and decided this is where I wanted to continue my work with animals. Since I've been young I've always liked being around animals from horses to hamsters. I plan on returning to school for my veterinary technician certification and continuing my education for animals.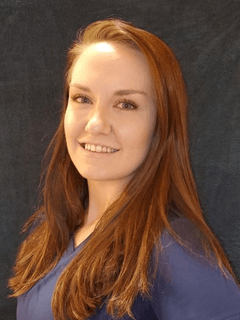 Danielle – Client Service Representative
My name is Danielle, but I like to go by Dani. I was born and raised in North Bay, Ontario, Canada, but have lived in Colorado for the past 15 years. I grew up in a small farming area and have always been comfortable around animals, from pigs and chicken to dogs and cats. In our household, we have our two cats, Theo and Nisto, then three dogs, JoJo, Kevin, and Yeti. On my days off, I enjoy relaxing around the house, jeeping with my boyfriend, and exploring Colorado. I have been a saber fencer since 2005 and have been a violinist from the age of 9. I have been with Bear Valley Vet since February 2019, and find it very fulfilling to do whatever I can to help treat someones pet.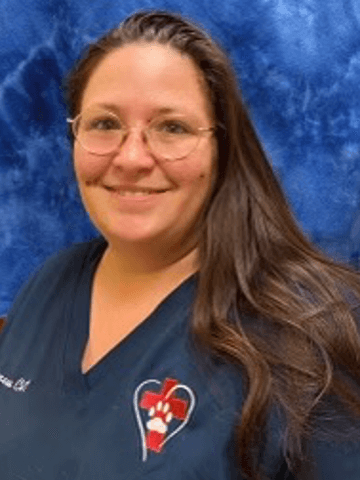 Vanessa – Certified Veterinary Technician
Hi, my name is Vanessa. I started working in grooming and boarding right out of high school. I went to Bel-Rea and graduated in March of 2018 as a Certified Veterinary Technician. I joined the Bear Valley team in September of 2020. I love helping my patients, but client education and building a strong relationship with them is what fills me with purpose. In my spare time, I like to crochet and play video games. I'm always willing to learn more and improve my skills to better myself and provide quality care with compassion to pets and their people in our community. Aura Madrid – Certified Veterinary Assistant
Hello there, my name is Aura. I started my internship in March of 2021 here at BVVC and after receiving my CVA from PIMA I began working here in May of 2021. For as long as I can remember, I've always loved being around animals from insects to llamas. As of now, I own 2 cats and a doggo named Bacon. They are the little lights of my life! I plan on continuing my education to work with animals and help make their lives better!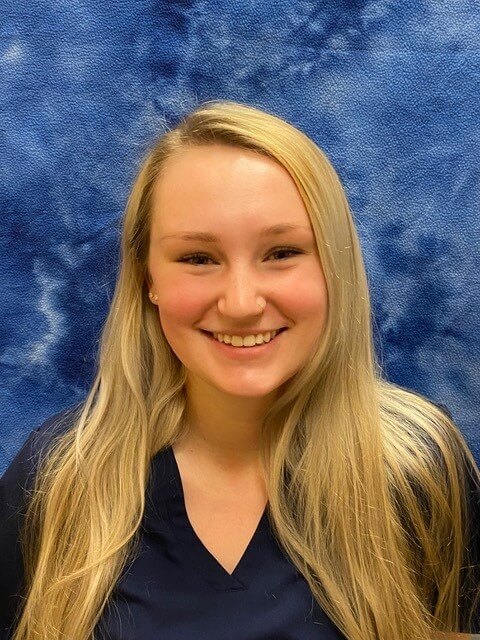 Kacey- Surgery Technician Assistant
Hi, my name is Kacey and I've been working at Bear Valley since March 2021. Ever since I was a little kid I have dreamed about working with animals, and now that I finally get to experience that, it means so much more than words can describe. I'm hoping soon I can start vet tech/assistant school to further my education with animals. Working with your pets is such a joy!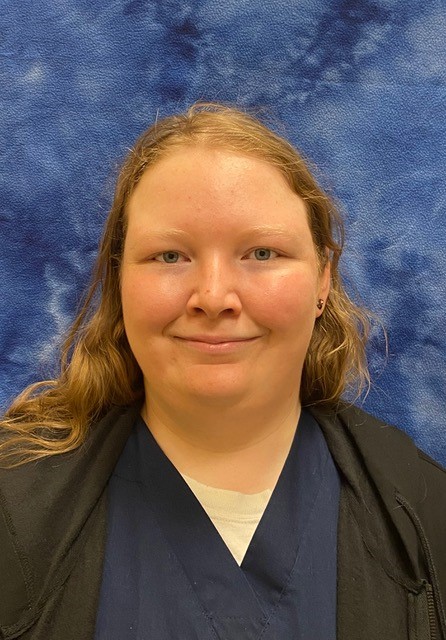 Jessica- Technician Assistant
Hi, I'm Jessica. I graduated from Colorado State University in May of 2021 with a Bachelor's of Science in Zoology with minors in German and Chemistry. I joined the BVVCC team in August of 2021 as a Veterinary Assistant. I have always loved animals, and I currently have a Border Collie Australian Shepherd mix named Loki, who is my best friend even though he is a little troublemaker. In my free time in enjoy writing, reading, hiking and playing video games. I love being able to care for the animals of our clients and treat them like family, and I will gladly do so until I attend Vet School in August of 2022. I can't wait to get to know you and your pets!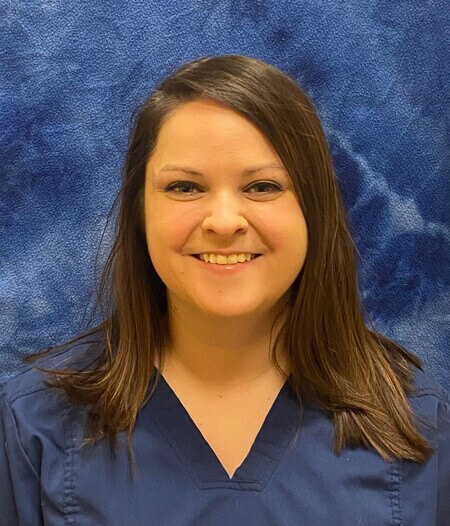 Ashley – Veterinary Assistant
Hi, my name is Ashley and I started working at BVVCC towards the end of September 2021. I was born and raised in South Carolina but recently just moved here from Texas! I have a bachelor's degree in Wildlife Sciences with a concentration in Wildlife Management from Oregon State University. I have worked at multiple veterinary clinics along with dairy farms and deer farms and have loved every second of it! In my spare time, I enjoy going hunting, 4-wheeling, hiking, basically anything that involves the great outdoors, reading, traveling, exploring Colorado with my boyfriend and cooking/ baking. I look forward to meeting you and your furry babies and treating y'all like family!"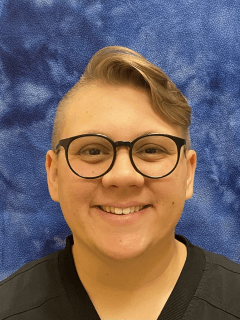 Madison – Client Services Representative
Hi, my name is Madison. I have been a customer service rep at BVVCC since October 2021 and have loved every second of it. From the family, friendly atmosphere to the awesome animals we work with everyday, it's nothing short of amazing. I have two Great Danes and an American bully, as well as two ball pythons. I have loved all animals since a young age and am thrilled to get to work with them everyday. I look forward to seeing you and all your pets soon! Josey – Customer Service Representative
Hi, my name is Josey and I've been working here at BVVCC since November 2021. I am from Chicago but have recently resided to Denver, CO since September 2021. I have always had a love for animals particularly dogs, cats, and horses. I have a cat named Hank who is the best boy. In my spare time I enjoy hiking, going to concerts, and riding horses. I am so excited to be working with animals and can't wait to meet your furry babies soon!