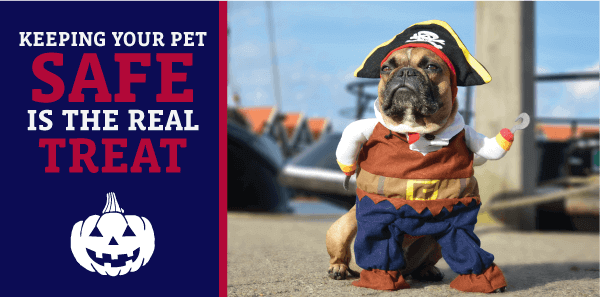 Keeping Your Pet Safe is the Real Treat
Many people enjoy Halloween, but the same isn't necessarily true for our pets. Constantly opening the door for trick-or-treaters, unusual costumes and noises can often put animals on edge. Here are some ideas for keeping your cat or dog safe and serene on Halloween:
When expecting visitors, put your dog or cat in a quiet place away from the door. This will help prevent them from getting worked up.
Keep bowls and bags of candy far out of reach. Chocolate and the sweetener xylitol—often found in gum and peanut butter—can be very toxic to dogs and cats. Kids should also be reminded not to feed candy to pets.
If you're putting your pet in a costume, make sure they feel comfortable in it before taking them out. If the costume has bells, noisemakers or strings they can scare your pet or pose a choking hazard.
Keep your pet indoors on Halloween night! This is especially important for black cats, who can be targeted during the holiday. Also, make sure your pets are microchipped or have a collar with current identification in case they get scared and run off while kids are trick-or-treating
If you'd like to schedule an appointment to get your pet microchipped, or if you have further questions about Halloween safety, give us a call at 720.548.4297.