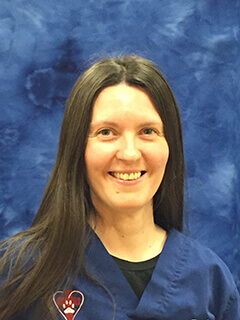 Becky – Certified Veterinary Technician
Hi, It's Becky. I've been with the Bear Valley team since Dr. Stevenson's first day in 2004. Every day is a new adventure. Since becoming a certified veterinary assistant in high school I have worked at small animal clinics, doggie daycares, shelters, emergency care, and even barns.
After high school, I graduated from Bel-Rea and became a certified veterinary technician. I honestly find joy in every aspect of our work at Bear Valley. From helping to educate new pet parents to scaling tartar off teeth. Every part of our work here is to help pets and there is nothing greater.