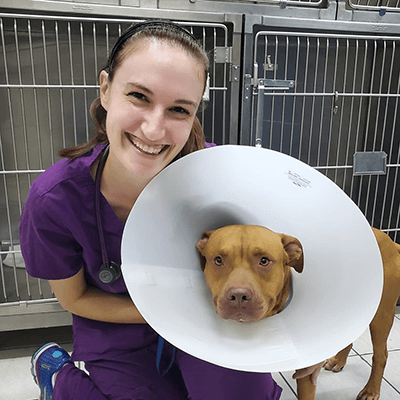 Dr. Rebekah Erdman
Hello, I am Dr. Rebekah Erdman! I was born and raised in Southern California where I spent most of my life; except for a two-year stent in Florida while my Father built Universal Studios Islands of Adventure.
At the age of three my parents say it was decided, Rebekah would be a vet; as it took three months to get me out of the 101 Dalmatians costume I wore for Halloween. When December came, I was gifted a "Little Tikes Veterinarian Kit", which was the official beginning of my long journey. Growing up I was always surrounded by family pets ranging from the usual cats, dogs, rabbits, birds, fish, guinea pigs, and hamsters to the not so traditional tadpoles, ant farms, poisonous dart frogs, and the occasional horse. There was never a dull moment, or lack of animal chores.
During high school, I had several goals: to not be noticed as a 5'11" female, to maintain a 4.0 GPA while participating in multiple extracurricular activities, and to build the foundation for my professional aspirations. At the end of my high school career my coach gave me a "Little Tikes Tool Box" to symbolize my hard work and dedication to all I perused. To this day it stands as a constant reminder of my strength, perseverance, and work ethic.
From there, I received my Bachelors of Science in Animal Science-Pre-Veterinary Medicine from California State Polytechnic University, Pomona. During this time, and for a year after graduation, I worked in a variety of veterinary practices in Southern and Northern California, the SPCA of Lake County, and volunteered at a large animal rescue in San Diego. (Ask me about being attacked by a Zebra when we meet)
I obtained my DVM from Ross University School of Veterinary Medicine and performed my clinical training at Oklahoma State University School of Veterinary Medicine. It was during this time that I had to quickly adapt to the significant differences in temperature as I performed emergency C-sections on cattle in freezing conditions and held an umbrella over my surgery patient during a classic Oklahoma thunderstorm.
When not at work you can be sure to find me exploring the beautiful state of Colorado by hiking, camping, and practicing my photography skills. I also enjoy playing volleyball, soccer, and spending time with family and friends.
I truly value my relationships with clients and patients, and I am devoted to providing the highest quality of care to your beloved pets. Rest assured you will receive the best of what I have to offer. I am very excited to hopefully have found my forever home here in Colorado at Bear Valley Veterinary Care Center.