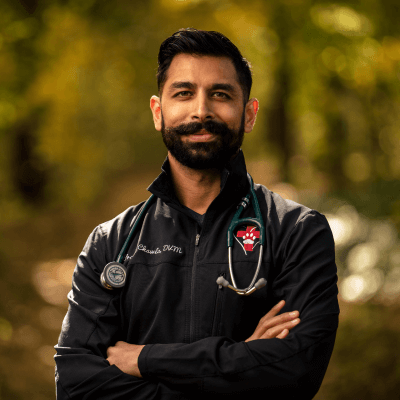 Dr. Pranav Chawla
Dr. Pranav Chawla has been practicing small animal veterinary medicine since 2015. He hails from Coastal NJ and performed his undergraduate studies in Animal Sciences at the University of Maryland, College Park. After traveling extensively to explore the fields of medical research, zoo animal management, and marine mammal medicine, he gained acceptance to St. George's University School of Veterinary Medicine.
Dr. Chawla performed his clinical training at The Ohio State University College of Veterinary Medicine, followed by completion of an internship in small animal medicine and surgery at Southern California Veterinary Specialty Hospital in 2016. Since that time he has practiced in animal shelters, emergency settings, non-profit clinics, and of course, general hospitals like ours.
In the summer of 2018, Dr. Chawla transplanted his life, beautiful wife, and beloved pets to wonderful Denver, Colorado. His wife's favorite color is green, and so his favorite color is…also green. His favorite sport is tennis, and his favorite snack is apples with peanut butter. When he's not working at Bear Valley Veterinary Care Center, he is also a mindfulness meditation teacher.
Dr. Chawla is devoted to his clients and patients, and will always go the extra mile to ensure you know all there is to know about your pet's health!